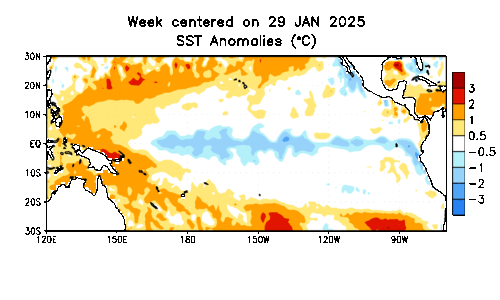 McLean, de Frietas and Carter

BPSDB
In the ongoing story of the ridiculous McLean, de Frietas and Carter paper that has been seized on by the climate change Denialosphere, James' Empty Blog finds yet another error in the abomination, but the main point of his post is the more serious issue of Editorial standards at AGU journals and how this travesty ever got published in a respectable journal in the first place.
Understanding just what SOI and ENSO have to do with climate is pretty opaque to most people, so thanks to Dan's Wild Wild Science Journal for Confused About El Nino- Taichiro Sakagami can fix that which led me to El Niño (ENSO) Animation V1.25, a good place to get a better understanding of the climate mechanisms underlying all of this fuss. That is the source of the video below. see the originals for higher quality animations and text.
In Is ENSO "responsible for recent global warming?" No. Deep Climate reports that:
A barrage of criticism has forced the authors and their champions to backpedal furiously. Along the way, a PDF of the paper has been removed from the New Zealand Climate Science Coalition (NZCSC) website, presumably to rectify an egregious copyright breach. Even worse, the NZCSC parent affiliate, the above-mentioned International Climate Science Coalition (ICSC), was caught substituting its preferred title for the actual one in its link to the paper.
The Deep Climate coverage is very thorough and well worth your time.
Another critique of the work may be found at Global warming view under attack:
"They have used their favourite versions of the radiosonde data and don't discuss the possible issues with some of the radiosonde and satellite data," Renwick said.

"They try and confuse the year-to-year variation and they have deliberately taken out the trend in their analysis.

`It's the conclusion section in the last part, the things they say they don't support them with anything they have in the paper.

"They strike me as being questionable at best not based on anything that's been shown.

"It is a real surprise it got through the peer review."
Climate Deniers ADD?
As is so often the case with the Deniers this definitive "proof" of the allegedly natural origin's of climate change has already largely disappeared from their headlines as they have moved on to the next absurd claim(s). Of course it will continue to bob to the surface now and then, as the chunks floating in the skeptic tank are wont to do, but for the most part it has vanished.
To me this is interesting because if it actually were a valid study and not the nonsense that it is, any rational skeptic would seize it like a pit bull and not let go. Of course they would not have to because if it actually were valid half of the scientific community would already have done so, and the rest would follow quickly if it withstood scrutiny.
However it does beg the question whether the Deniers
knew all along that it was drivel, or
they are completely unable to distinguish anything that looks scientific from the even more absurd idiocies that flow through the Denialosphere daily, or
they have such short attention spans that whether they believe something to be actually valid or not, they simply can't stick with it.
It does suggest that even if the extremely improbable happened and a real study did somehow undermine the core science, it would vanish from the Denialosphere just as quickly.
Contradict yourselves much?
Then there is also the whole issue that when you string together the various stances and claims that appear on the sites that have been promoting the McLean et al paper, you get something like:
"The global warming that was never happening and ended in 1998 and 2001 is natural and entirely driven by natural cycles cosmic rays water vapour Monckton's graphs solar variation the Southern Oscillation 'to be announced'.
The McLean et al story is also discussed at:
Added to: Is our whole dissembly appeared?
Watts to Do About Nothing?
In the continuing saga of I had meant to note that the trolls have certainly not been quiet over at One Blue Marble, (please feel free to go and add the voice of reason to the comments) and I love their response:
Joseph Romm also seems to be having a hard time taking Watts seriously too, I can't imagine why. I LOVE the "inanity defense"; says it all right there.
Exclusive: Watts offers 'inanity defense' for his effort to censor Sinclair's video, saying he was "doing him a favor." Sinclair replies, "His reaction pretty much confirmed that my psychological profiling was dead on." « Climate Progress
Added to: Act III Scene 1: But but (from the Watts)
Oregon Redux

To my shame 😦 my recent post What if the Oregon Petition names were real? updating and expanding on why "The Petition" is such a meaningless document missed the comprehensive breakdown done at 2. The Scientific Consensus « The Global Warming Debate (begin about 1/3rd down the page).
Now add to that the equally comprehensive, but somewhat different analysis from Scholars and Rogues » 31,478… 13,245… 152 OISM "scientists" can't be wrong where Brian does a much more detailed look at how representative the signatories are of their various disciplines.
More and more the Petition is exposed as ridiculous; however, the claim that the petition is the work of the Arthur Robinson remains uncontested; that's one thing about it that no one seems to be disputing 😉 .
Added to: What if the Oregon Petition names were real?
The Rules
Thanks to Deltoid for bringing The rules at Larvatus Prodeo to my attention. The incomplete version looks like this; what the Denialosphere will accept as "real science":
Nothing that was recorded by instruments such as weather-stations, ocean buoys or satellite data. Since all instruments are subject to error, we cannot use them to measure climate.
Nothing that has been corrected to account for the error of recording instruments. Any corrected data is a fudge. You must use only the raw data, which is previously disqualified under rule #1. Got that? OK, moving along…
Nothing that was produced by a computer model. We all know that you can't trust computer models, and they have a terrible track record in any industrial, architectural, engineering, astronomical or medical context.
Nothing that was researched or published by a scientist. Such appeals to authority are invalid. We all know that scientists are just writing these papers to keep their grant money.
The complete list is well worth your time as well, so get over there, but before you go …. I would add the 'Contextual Inverse Conclusion Rule', viz
if any study concludes that the science supporting anthropogenic climate change is disproven in whole or in part, no matter how shoddy or blatantly false that study is, or
any study that may be misrepresented as making that conclusion,

it shall be a given that to the extent that the study used these techniques and technologies, they are absolutely infallible, and

that the persons conducting that research shall be known as members of that honourable and learned profession "(real) Scientists", and

thereby the alleged conclusion is shown to be indisputable."
Since 1960, about 2200 cubic miles of glacial ice has gone into the ocean. This glacial ice contributes about 1.1 mm per year to the overall 3.1 mm per year of sea level rise.  Earth Gauge
We give our consent every moment that we do not resist.
Denier "Challenge" aka Deathwatch Update: Day 278 … still no evidence.
Comment Policy
Comments that are not relevant to the post that they appear under or the evolving discussion will simply be deleted, as will links to Denier spam known to be scientific gibberish
The "Mostly" Open Thread is for general climate discussion that is not relevant to a particular post. Spam and abuse rules still apply;
The "Challenging the Core Science" Comment Thread is for comments that purport to challenge the core science of anthropogenic climate change.